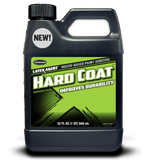 $ 1998
* Improve the durability of latex paint. * Create a long-lasting surface that resists nicks * Great for interior and exterior painting projects, walls, doors and high traffic areas.  ...
"So far the product appears to hold up quite well. Pretty simple to use as an additive and if it holds up as expected it would be a definite add to cabinet enameling jobs all the time."
"It seems great on a handrail job I did!"
"I will continue to recommend your products to other painting professionals."
"Well, it actually does exactly what I expected it to do, it makes . . . applying paint, I believe, easier."
"I feel like this did add to the durability or the enamel, the armor of the paint."
"A good additive. It seems like a nice thing to have to, I guess, as a tool to make your job better and to impress your customer. Anything that does that is always a good thing."
"Overall I would definitely . . . use it as my go-to for added durability in paint – something I would definitely look at; something I would definitely offer my clients."
"I was quite surprised because the additive actually kind of helped in the job, in my painting, and I didn't see no brush streaks. This helps me in my control like it was a good way for me to have control of it and help me out with the painting."
"I thought it performed quite well. I notice definitely a difference. I mean it definitely improved the durability of the product even on the low end of that. So, I'm sure that probably the longer it sets and has to cure then the harder and better it's even going to get than that."
"I was kind of surprised when you said up to 30 days because . . . looks nice to me even though that's just after the seven days curing."