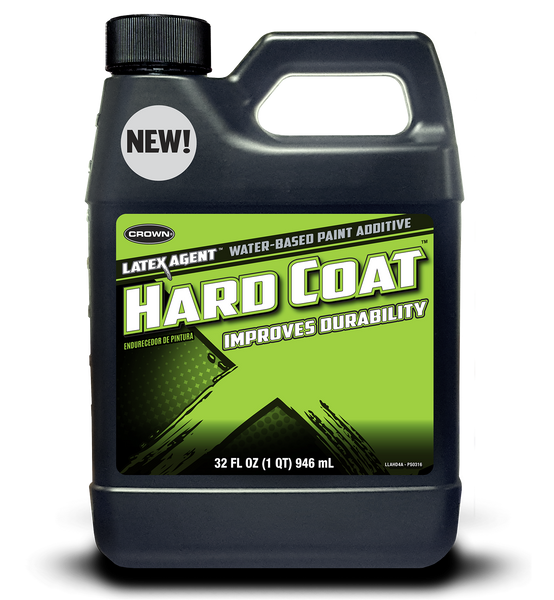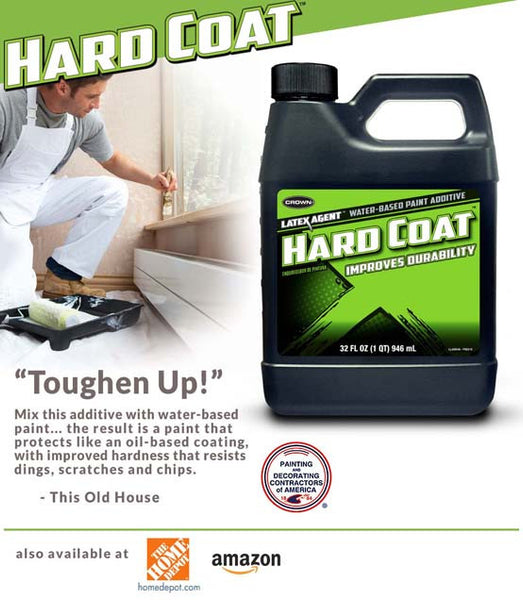 Hard Coat - Latex Paint Additive Makes Paint More Durable - 1 Quart
* Improve the durability of latex paint.
* Create a long-lasting surface that resists nicks
* Great for interior and exterior painting projects, walls, doors and high traffic areas.
Hard Coat latex paint additive provides a tougher more durable finish when added to latex paints. The technology is ceramic based, similar to ceramic based exterior paints. The technology uniquely suspends the ceramic particles throughout the latex paint with unique resins that "lock" the ceramic particles evenly throughout the applied paint. Most paints also hide and level better with the Hard Coat added at 16 ounces per gallon of paint. Abrasion and chip resistance are markedly improved in every paint tested to date. However, the nature of ceramic particles does slightly decrease the gloss in high gloss finishes. This effect is unnoticeable in lower gloss level paints (semi-gloss and below).
SHAKE WELL FOR AT LEAST 30 SECONDS
ADD HARD COAT - Add 16 oz. of the Hard Coat latex paint additive (1/2 quart) per gallon of latex paint and mix well. Paint as desired. For best results, use the Hard Coat additive in all coats of paint applied.
ALLOW FOR DRY TIME - Allow the first coat of Latex paint with Hard Coat additive to dry longer than recommended by the paint manufacturer before recoating. Several hours (3-4) of dry time between coats is suggested.
The Latex paint with Hard Coat will adhere and harden as normal for the paint itself, but the final coat will reach its maximum hardness and final cure in 7-14 days, depending on conditions (temperature, humidity, etc.).
NOTE: For use in spray equipment - Add the Latex paint with Hard Coat additive as directed and dilute as necessary with extra water to meet the viscosity requirement for your spray equipment per the manufacturer's directions.
NOTE: This product may cause a slight reduction of gloss in glossy Latex paints only. Hard Coat is not suitable for oil-based coatings.
It is the user's responsibility to determine whether this product suits the purpose of the user's application.
We Also Recommend