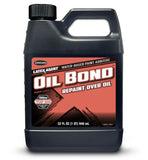 $ 1998
  Click here to learn how to paint your kitchen cabinets without sanding! • Paint latex over previously painted oil or polyurethane surfaces without sanding or priming.• Great for use on...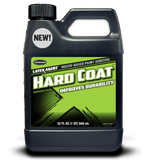 $ 1998
* Improve the durability of latex paint. * Create a long-lasting surface that resists nicks * Great for interior and exterior painting projects, walls, doors and high traffic areas.  ...
"Oil bond makes painting easier."
"Oil bond makes painting less like work."
"I used latex agent oil bond on the cabinets in my kitchen. The man at Lowes suggested it so that I did not have to prime the cabinets before painting them. The oil bond worked well and the cabinets look great. Using the oil bond saved time and money on my part."
". . . I am really surprised that it worked so well because in the past, people talk about these things and new products when they come out and a lot of times they fall short. . . . but from what I used on there I mean it did exactly what it said it was going to do and I have no problems with it. I'd say it worked really good overall and I was . . . really impressed with it."
"I think it's a good product. I think it's a safe product. It does what it's supposed to do and what it claims to do quite well. You wipe it on and there was no need to do anything extra. It worked well. It adhered well. I'm satisfied. I think that they have a good product."
". . . there's definitely a need for it and it is very easy to use."
"Oil bond makes painting easier. More fun. More exciting."
"I used the oil bond on the paneling in my kitchen. It did exactly what it was supposed to do and I am very pleased with the way my kitchen looks."
"I'm currently asking my Sherwin-Williams sales rep to work up the chain to have Latex Agent in the stores."
"Oil bond makes painting take less time."
"Anything you can do to get better adherence . . . just benefits you in the long run."
"And I have to say that the additive, it did make it look better. And . . . I didn't have to coat it as much."
"It does what it says it does and that's the big thing."
"Well, it actually does exactly what I expected it to do, it makes . . . applying paint, I believe, easier."
"I love it. I really like it. It made my job a lot easier. It was a lot more consistent and when it adhered to the drywall as well as that did, it was well worth it. So I couldn't be any more happy with it."
"The paint went on and dried very smooth. The dry time was much faster than expected (maybe 2 hours). The best part was it did not dry sticky. I'm impressed with this product. Next project is adding stair treads to our stairs, and using "Hard Coat" to paint around them."
"So far the product appears to hold up quite well. Pretty simple to use as an additive and if it holds up as expected it would be a definite add to cabinet enameling jobs all the time."
"It seems great on a handrail job I did!"
"I will continue to recommend your products to other painting professionals."
"Well, it actually does exactly what I expected it to do, it makes . . . applying paint, I believe, easier."
"I feel like this did add to the durability or the enamel, the armor of the paint."
"A good additive. It seems like a nice thing to have to, I guess, as a tool to make your job better and to impress your customer. Anything that does that is always a good thing."
"Overall I would definitely . . . use it as my go-to for added durability in paint – something I would definitely look at; something I would definitely offer my clients."
"I was quite surprised because the additive actually kind of helped in the job, in my painting, and I didn't see no brush streaks. This helps me in my control like it was a good way for me to have control of it and help me out with the painting."
"I thought it performed quite well. I notice definitely a difference. I mean it definitely improved the durability of the product even on the low end of that. So, I'm sure that probably the longer it sets and has to cure then the harder and better it's even going to get than that."
"I was kind of surprised when you said up to 30 days because . . . looks nice to me even though that's just after the seven days curing."
"To me, this product is revolutionary in the market. It's a five . . . . If I could give it a five plus, I would!"
"It was easy to apply. Easy to work with. No funny smell."
"You know, the fact that it's easy to mix, it doesn't require really a lot of extra time to prepare . . . and then it does mix well with the paint itself. That's always a concern of mine, I don't want to ever lose any of the integrity of the actual paint by adding something to it, but that didn't seem to the case at all."
"I can see it being both interior and exterior."
"The side that I did with the solvent, the Dirt Repel, there's no stains all, no markings, nothing. It's actually really good and it didn't change the shine of the coat either. It's still a matte. The left side there are brownish marks on it from the dirt."
"I was thinking at the time would the paint peel off or will there be any noticeable dullness to the paint with the additive, and when I did the cleaning I didn't notice any. Just a one or two wipe deal and I'm done!"
"The Dirt Repel section maintained its complete look. There was no paint damage. The Dirt Repel performed flawlessly. . . . it gives me the idea that there's a lot more hardness to the paint than there is with just the basic latex paint. It was resistant to scratches and scuffing."
"On the surface where I used the additive it came off just like it would be a high-gloss or semi-gloss. It just wiped – gone. Disappeared. Worked very well."
"I was impressed that the product did not affect the Sherwin-Williams Duration Matte nor Flat Enamel paint."
"Your product allows for fantastic open time/leveling just like oil paints do and I do believe Enhancer gives the paint a slightly higher sheen and this is good for me! I have used it in my favorite paint right now and the results are always excellent! I will always be using Latex Agent from now on bypassing other extenders I have tried like BM extender, Floetrol, etc."
"Very easy to use. Results were as advertised."
"Good product. Works as well as other products of the same type."
"I was amazed because it bonded so well . . . I really put it to the test, getting it on there."
"…very happy with how it's holding on there and . . . the smoothness at which it painted on there and just the overall use. A very, very good product."
"So, overall I would give it, like, a 10 because it was super easy and it turned out just as I wanted. I love it, I truly love it. . . . it went on easy on a metal door and no separation."
"It was really quick . . . It's really simple, really effective. It was really a time-saver."
"Just wipe it down, just like you would wipe any surface down. It went on real easy, fast."
"It was definitely far better than using paint thinner, for one it didn't smell."
"It adheres extremely well."
"I was impressed. I was satisfied with the end result. It seems to be a pretty solid product. It seems to be a very good product."
". . . it made the latex paint really solid on there I was really impressed with it. As far as my expectations, it completely met it. . . . I don't even think it took the ten days it recommended I would say it was probably within the six or seven days – that stuff is so hard on there like even used a metal scraper and scratched on it and it didn't relinquish, so it's completely met my expectations on that end of it."
"It actually more than met my expectations . . . you never know the difference when you're putting it on. It's very smooth and it remains, after I tested after three days it was very hard and it didn't seem like anything would come off, there wasn't any chalkiness or anything. No residue."
". . . a job well done, no dripping, no separating, no peeling, none of that stuff so far."
"It adhered pretty well. I did a scratch test, and after three coats, the thickness and gloss is there, not deteriorating or anything."
"It's tough. It stuck to it very, very well. I was impressed with it."
"It's nice and it's even. It looks clean. It doesn't look sloppy. It's something that I would be proud of to have outside of my home . . ."
". . .there was no odors, no fumes, it was easy to mix . . ."