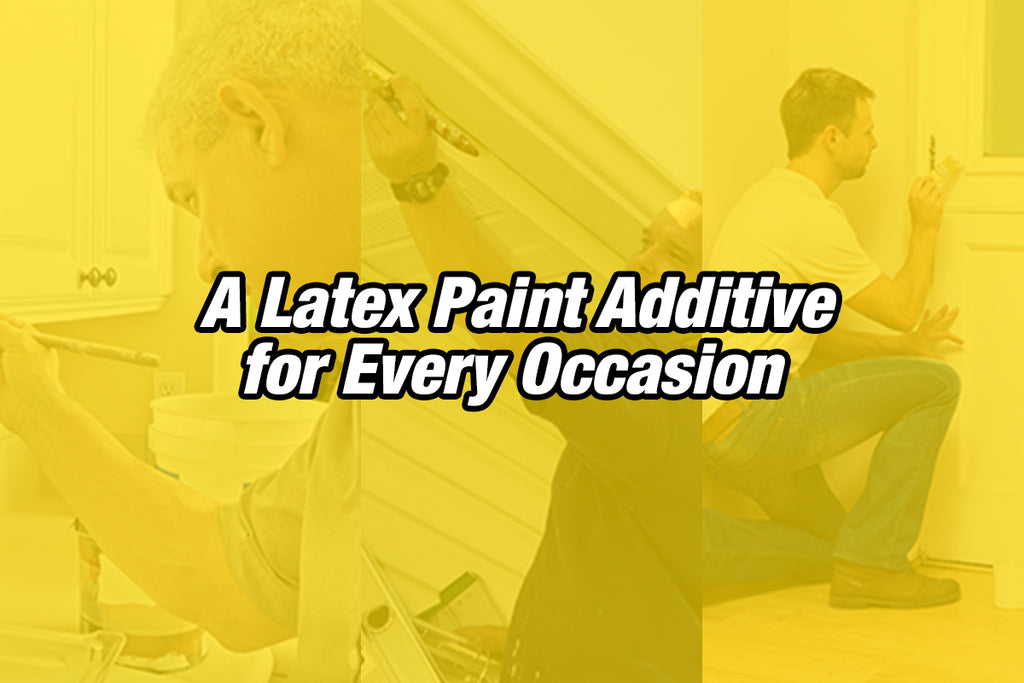 A Latex Paint Additive for Every Occasion
Posted by : Latex Agent /
Jeff didn't sand down the trim on his house. Instead, he used a latex paint additive. Mike extended the open time (dry time) on his interior paint project. He used a latex paint additive. Jackson added abrasion protection to the paint in his high-traffic hallways and entryways. And, we bet you can guess what he did. He used a latex paint additive.
Each of these projects were aided and equipped with latex paint additives designed for specific paint enhancements.
Many painters know the benefits that paint additives can provide. They often use high-quality paint that come with pre-blended additives. But, stores usually ask premium prices for paints containing additives. What if there is a way to get the same professional-grade performance you are looking for without the premium price? It is possible by using paint additives that meet your project's needs.
Want to avoid priming prep? Use Oil Bond, or Metal Bond, additives designed to prime and and add adhesion to the surface of wood or metal.
Want to create a more dirt-resistant surface? Use Dirt Repel, an additive designed to resist dirt, and reduce wall and trim maintenance.
A latex paint additive can add a variety of excellent enhancements to your paint.
Common Ways Painter's are Using Latex Paint Additives
Oil Bond and Metal Bond pre-treat surfaces to provide powerful adhesion to oil-based paint surfaces and bare metal without needing primer. Learn more

Oil Bond provides powerful adhesion for latex based paints over oil-based surfaces, or any varnish, polyurethane wooden surfaces, all without sanding. Named a Top 100 Project by This Old House, it's commonly used on Kitchen Cabinets, trim and painted furniture. Learn more
Hard Coat adds abrasion-resistance to paint, which is ideal for walkways, garage spaces, kitchens or anywhere else that's likely to get banged up. Are you a pro painter? Add Hard Coat to your paint and reduce call backs for touch ups. Learn more
Hard Coat also adds extra years of endurance for less expensive paints, saving you money and labor in the future. Learn more
Dirt Repel is designed to resist dirt and reduce wall and trim maintenance. Learn more
Add Enhancer, a latex paint additive, to your paint to even the flow of paint and save time with less stops and starts. Learn more
Give yourself the time to cut in edges and corners invisibly with Enhancer. Learn more
Enhancer will also even the flow of paint and save time with less stops and starts. Learn more
Visit latexagent.com for more information and let us know how you are using additives.