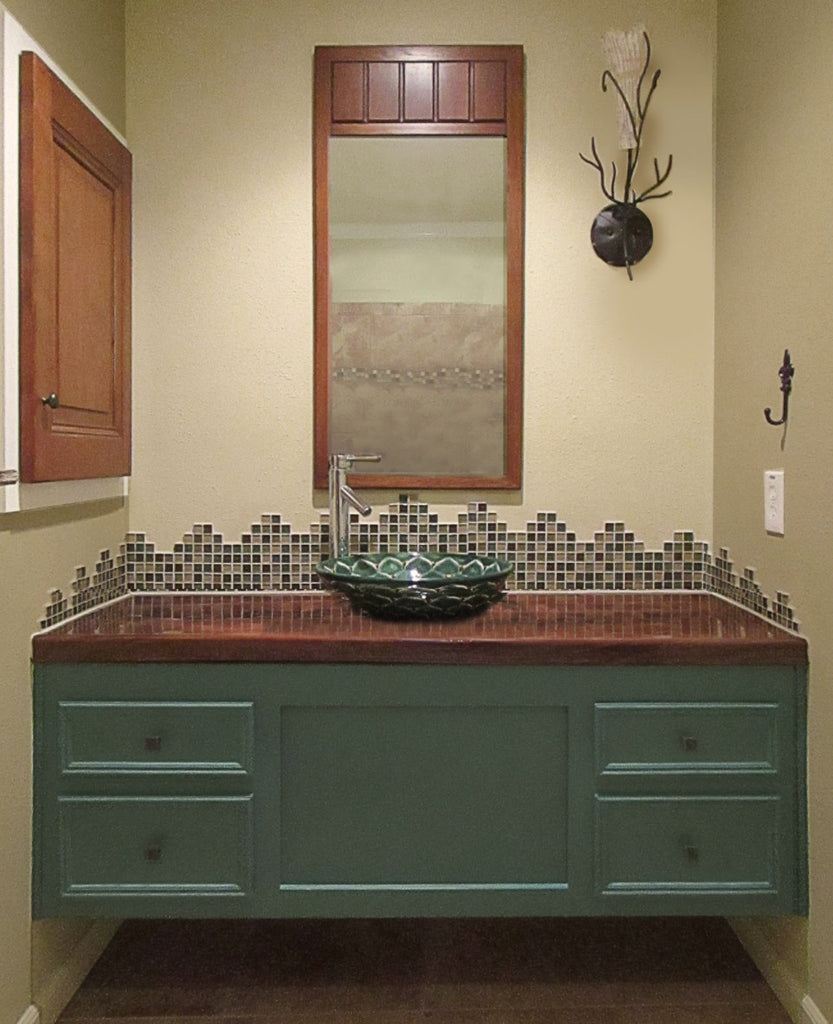 An Easy Upcycled Bathroom Project for Professional Painters
Posted by : Latex Agent /
Are you a professional painter? Looking for a special upsell? Upcycling may be the perfect opportunity for interior rooms with potential upcycle-ready pieces.
What Is Upcycling?
Upcycling is a popular way of taking an item and giving it a makeover. It's like a second life for dull or outdated furniture. Most people use cheap reclaimed materials to make it happen, like an old chest of drawers. It can add a lot of value to an otherwise out-of-date or ugly piece.
Instead of doing what "regular" recycling does – degrading materials to reuse them – upcycling makes the most of the item to create beautiful furniture, decorative items, you name it. The bathroom is one of those places everyone sees. That's why a fresh update can be a great upsell for your next painting project.
With upcycling, professional painters have a new upsell opportunity, and client's will get a beautiful update, without paying the cost of new replacement. The best part is, it's not as much work as you may think. Check out how we transformed one bathroom by simply replacing the dated vanity with a dated vanity with an upcycled old desk, a piece of wood and an old bowl.
Bathroom Vanity Before Upsell
Bathroom Vanity After Upsell
Transforming A Bathroom Desk into a Vanity
The transformation is huge. You might think it's too difficult, or too much of a hassle. We can tell you from our own experience: it's easier than we thought! Here's the secret: use Oil Bond.
Re-paint with Oil Bond
Oil Bond is an award-winning latex paint additive developed to eliminate the need to sand and prime previously-painted surfaces. That's right: no sanding, no priming, and no mess.
Simply wipe Oil Bond on the entire surface with a clean cloth and let it dry for 1 to 2 hours. Then, mix some Oil Bond into your favorite paint (16oz. of Oil Bond for 1 gallon of paint), and paint over the pre-treated surface. It is that simple.
Replace the Top, if Needed
Since the old desk top in our project was in bad shape, we replaced it with a new slab of wood. With a quick stain a layer clear coat, the slab worked beautifully. In many cases you can use the original top by simply giving it a fresh paint job with Oil Bond, or a new stain. Judge for yourself.
Install New Vanity
You don't need to be a plumber to install the vanity and the plumbing. If you can handle a drill, you can do this. In this video, Jeribai from the DIY network shows you how easy it is. If you watch the video, notice how much time sanding takes, even in a small upcycle project. Using Oil Bond can reduce up to two-thirds of this instructional video!
Conclusion
Congratulations! You're on your way to turning a standard bathroom into a bold statement. Your customers will love it, and so will their guests. Be a hero. Make it happen.
Use Oil Bond. Ready to upcycle? Buy your bottle of Oil Bond today.