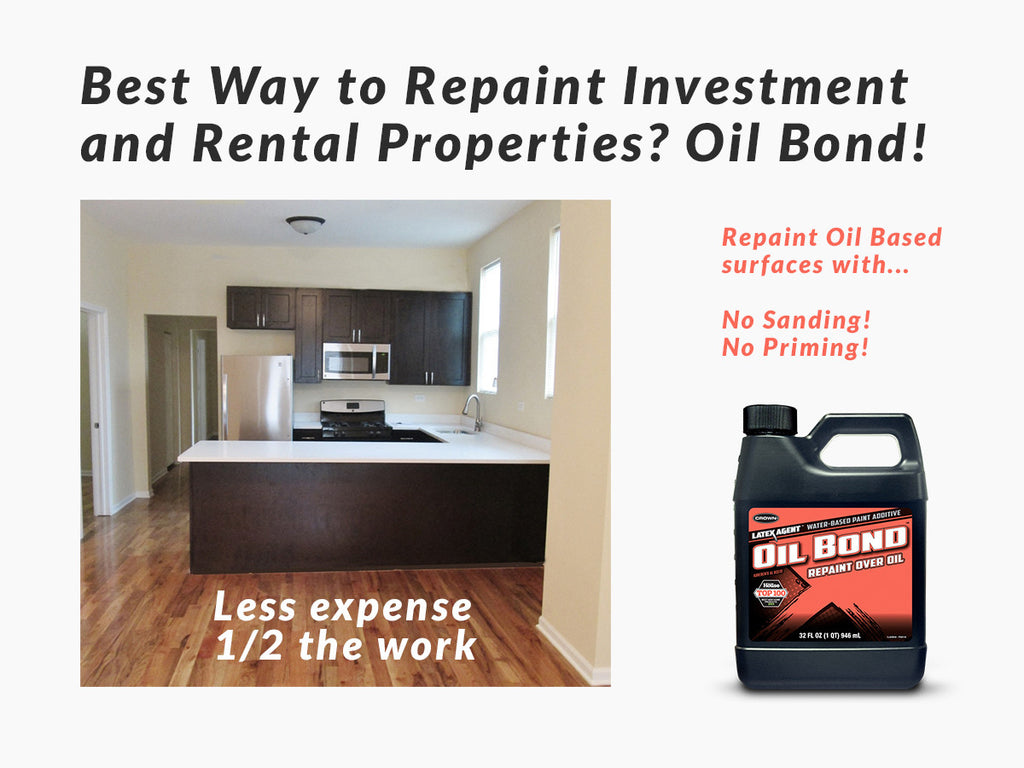 Investment Property Paint Made Easy With Oil Bond (Product Review)
Posted by : Latex Agent /
"I didn't have to spend money on sandpaper, deglosser or prep"
I purchased a property as an investment to rent it out and knew I would have to replace or do something drastic to the cabinets to uplift the kitchen. Not only did my cabinets turn out great, but I used Oil Bond in the bathroom which was painted with oil-based paint (typical bathroom paint in older homes). I didn't have to spend money on sand paper, deglosser or do extensive prep work. I followed the instructions and it worked great.  - Dan, The Home Depot Review
Gamechanger for Property Owners (Rentals, Investments, Offices, and more!)
This week at Latex Agent headquarters, we're featuring another helpful product review from Oil Bond's product page at The Home Depot. Read the review at thehomedepot.com. Thanks for the review, Dan!
This time, it's about using Oil Bond for a recently purchased investment property. If you own rental properties, investment properties, office buildings, or something similar, Oil Bond can truly be a gamechanger. Rather than spending money on sanding and priming supplies, Oil Bond allows quick, flexible and pro-level paint jobs without all the effort.
Imagine the difference! Many of these types of properties have old oil-based painted surfaces. That means a tougher paint job for prospective buyers. Before painting, they'll need to be sanded down, primed and prepped to achieve a great looking paint job. Oil Bond makes that process happen in an all-in-one simple experience.
Simply clean the area with a rag or cloth, then wipe Oil Bond directly to the surface before painting. Then, adding Oil Bond to your fresh paint as directed on the label, you're already ready to paint! No sanding, no priming. It's that easy.
Oil Bond even has deglossing properties that help prep the surface. Like the underside of velcro, the Oil-Bond wiped surface will adhere powerfully to the fresh paint. It works. Pros love Oil Bond. It was even named a Top 100 Product by This Old House in 2015. Learn more about Oil Bond and purchase directly here.