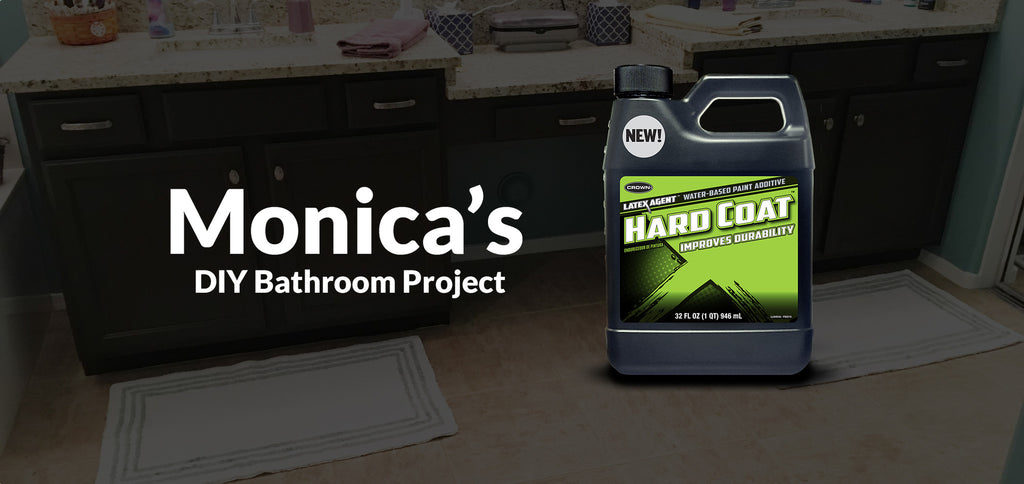 Monica's Do-It-Yourself, Ultra-Durable Bathroom Cabinets
Posted by : Latex Agent /
Hard Coat-Enhanced Bathroom Project
We recently received this awesome project courtesy of a Hard Coat purchaser. Monica shares the details of her project below. Hard Coat improves durability of paint, creates a longer-lasting finish, adds ding-resistance and is particularly useful for high-traffic, or high-use areas, like floor-level bathroom cabinets.
Check out Monica's project:
MONICA:

I finally finished the cabinets!

I read the article "This Old House:  Read this before you paint your cabinets!" (featuring Hard Coat). In this article, several products were used and pictured. First, a cleaner called Spray Nine, a super bonding primer from XIM and lastly, your product Hard Coat.

All really helped the cabinets turn out beautiful.  With regards to your product specifically, the week long curing time is bit worrisome but so far nothing has damaged the cabinets. After mixing your product into the paint, the paint continued to work as expected. I love it!

I plan on using your product in all of my cabinet projects throughout the house."
Excellent Monica! We're excited you saw the results you expected from Hard Coat. Check out the before and after pictures she sent us. 
Before
After
Long Curing Time? 

As you may have read, Monica mentions having a longer than expected cure time. Keep in mind with your project that curing time is derived by which paint you use. In other words, Hard Coat will not affect the curing time of your paint. Also, paint dry time and paint cure time are two different things. 
Paint dry time is defined as when paint feels dry when touched. Paint cure time is a more accurate reflection of what's actually happening in the compounds of the paint. Cure time is defined as when the complete properties of the paint have reached 100% hardness. 
Paint Dry Time: When paint feels and appears dry. 
Paint Cure Time: When the paint's surface properties reach complete hardness.
Factors for dry time and cure time include surface, paint thickness, paint type, sheen, finish, air conditions (like humidity, air flow, etc) and even paint color - darker paints tend to take longer to cure.
You can test if the paint is dry by simply touching the surface of the paint. To tell if the paint is fully cured, press your fingernail into an inconspicuous area of the newly painted area. If your fingernail "dents" the paint, the curing isn't finished. If your fingernail isn't able to make an impression, the paint is likely finished curing. 
Paint Dry & Cure Times
Here is a helpful guide that gives approximate dry times and cure times for different types of paint. 
Water Based/Latex Paint
Dry Time 1-2 hours – Cure Time 21-30 days
Oil Based Paint
Dry Time 6-8 hours – Cure Time 3-7 days
Chalk Brand Paints
Dry Time 30-60 minutes – Cure time 30 days
Homemade Chalky Paint
Dry Time 30-60 minutes – Cure Time 21-30 days
Milk Paint
Dry Time 30 minutes – Cure time 30 days
We'd love to hear your experience with one of our products. Contact us now, or write your review on homedepot.com.