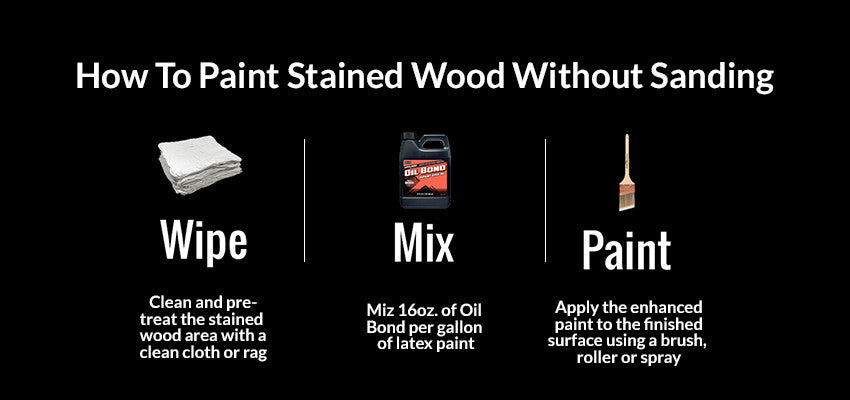 How to Paint Stained Wood Without Sanding or Priming
Posted by : Latex Agent /
There are so many ways to freshen up the design of your home. One of the best ways to do this is to paint over wood surfaces in the interior of your home. This has become an extremely popular practice among many. From cabinets, dressers, and shelves, to trim, you can provide an instant makeover to your home by adding a fresh paint job.
That's why we decided for this week's blog to share the best way to paint over wood surfaces. You need to know how to do a proper paint job when painting over stains, polys, and other finishes found on wood surfaces.
To make your paint look like it was done by a master painter, you'll need to take one of two methods: the traditional method, or the Oil Bond method. We'll outline each of these methods and show how the Oil Bond method saves time, effort, and if you're a professional painter, big money on the job site.
The Oil Bond Method
Step 1
Clean the area where you'll be painting with a clean cloth or rag. Then, apply a layer of Oil Bond directly on the newly-cleaned surface. Do this before you mix Oil Bond into your paint. By doing this, you'll prepare the surface for maximum adhesion for the paint. 

Step 2
Mix 16 ounces of Oil Bond per 1 gallon of standard latex based paint. Use a clean bucket.
NOTE: Don't worry! None of the properties of your paint will suffer by adding Oil Bond (UV rating, color, dry time, etc). But, be sure to only add Oil Bond, and no other additive or enhancement of any kind to the treated paint. (Click here for more information about using multiple additives)
Step 3
You're ready to paint! It's that simple.
The finished surface will quickly adhere to your paint, without sanding or priming. Oil Bond's award-winning ingredients act like velcro, creating a powerful grip between the first wiped application of Oil Bond, and the Oil-Bond enhanced latex based paint. No sanding. No priming.

The Traditional Method
Sanding and priming prep: This includes closing off doorways and windows from particles and dust from sanding.
Sanding: It's tedious and difficult work. But, without Oil Bond, it's essential. If you attempted painting over stained wood surfaces without sanding, and without Oil Bond, the paint wouldn't properly adhere. This would undoubtedly create blemishes, and a shorter life for the paint. 
Cleaning off sanding dust and particles
Priming
Painting
It's clear to see why Oil Bond is a huge advantage for both DIY painters and pros alike.