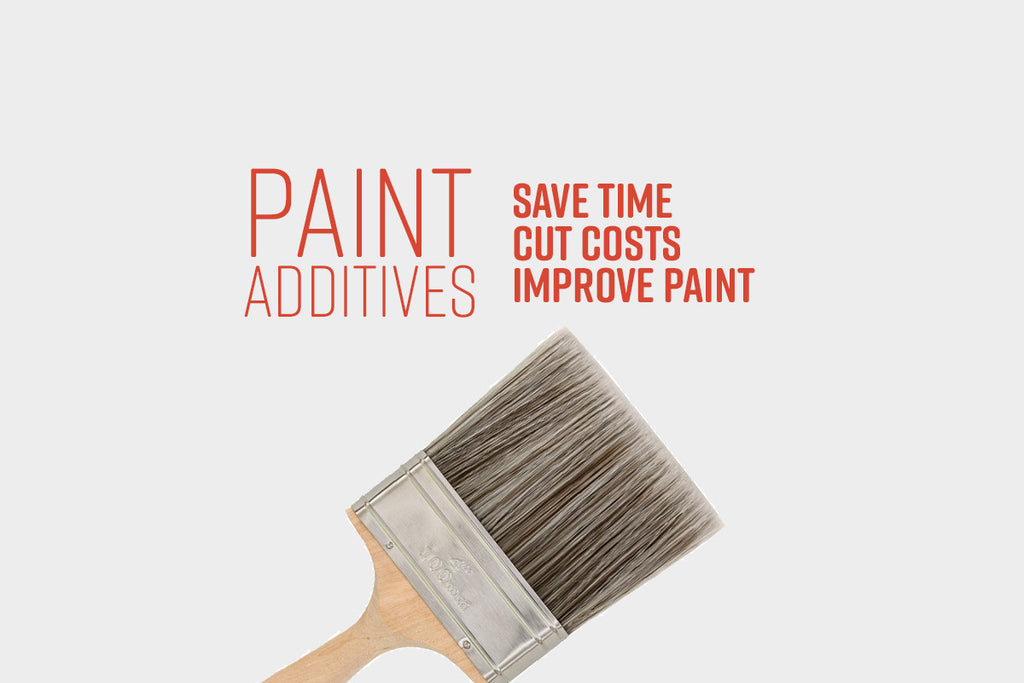 Paint Additives: Save Time, Cut Costs and Earn Wide Variety of Benefits
Posted by : Latex Agent /
Many painters (even pros!) don't realize the many options now available with newer and better paint additives. With enhancements like extending open time, improving paint flow and level, improved dirt repellence, abrasion resistance and much more, paint additives are a wonderful asset to any painter. You can make your paint last longer, look better, and spend less time on the job.
So you're standing at The Home Depot staring down the line at a wall of different paints. You've already chosen your paint colors, but now you're confused by all the options in front of you. The truth is, there are dozens of different paints, each with its own unique qualities and enhancements. Often these extras aren't easily perceptible, and can cause more confusion than help for buyers. And they come with a hefty price tag.
That's why we love paint additives specially designed for a single enhancement. They get the job done and they can save you money.
Paint Additives Boost Productivity for Both Professional and DIY Painters
Time-Saving & Cost-Cutting Paint Additives
Avoid Sanding Prep with Oil Bond
Oil Bond is a paint additive for latex-based paints. It provides a powerful adhesion to stained, or coated surfaces that would otherwise need to be sanded down before painting. That means using Oil Bond means no sanding, or sanding cleanup. That saves both professional and DIY painters a potentially huge amount of time (and labor costs) on the job.
Other time-saving, cost-cutting paint additive solutions:
Other Major Benefits of Paint Additives
From tougher paint, to better performance through a sprayer, additives can add a variety of different enhancements. For exterior paint, adding dirt-resistance can make homes stay cleaner for longer periods of time. And for painters who want an exceptional look, Enhancer by Latex Agent can extend open time, preventing paint from drying too quickly and leaving brush strokes, or uneven paint lines.
There are many benefits you can enjoy with Latex Agent Paint Additives, including:
Popular Projects to Use Paint Additives
Kitchen Cabinets
Many painters use Oil Bond when painting kitchen cabinets due to the huge amount of sanding prep, labor and cleanup required. Paint directly on the cabinets without sanding. Oil Bond makes the job far easier, alleviating all time and labor normally spent on sanding. Buy Oil Bond here.
Stained Wood
Another popular project for using Oil Bond is on stained wood surfaces. From refurbished painted table projects, to in-set living room cabinets, painting over stained wood is far easier with Oil Bond. No more sanding. Buy Oil Bond here.
High-Traffic Areas
For high-traffic areas that experience more use and abuse, Hard Coat is an excellent choice. Hard Coat improves the toughness of your paint, increasing abrasion resistance. Your paint will look better, and last longer. Buy Hard Coat here.
Outdoor Metal Furniture
Metal Bond is an additive that, like Oil Bond, eliminates the need to prime before painting - this time on metal surfaces, like metal chairs, tables and benches. Choose any latex paint color you want instead of being limited by spray paint selections. It's great for any outdoor furniture set. It works on aluminum, stainless steel, galvanized steel or carbon steel. Buy Metal Bond here.
The Dollar Value of Paint Additives
There are many enhanced paints in the market today that come with some benefits to those of the paint additives we've described. But, they come at a steep price. Some paints can climb as high as $80 per gallon. With Latex Agent Paint Additives, you can treat two gallons of paint with a $20 additive. This gives you the option to purchase less expensive paints with the enhancements of far more expensive paints.