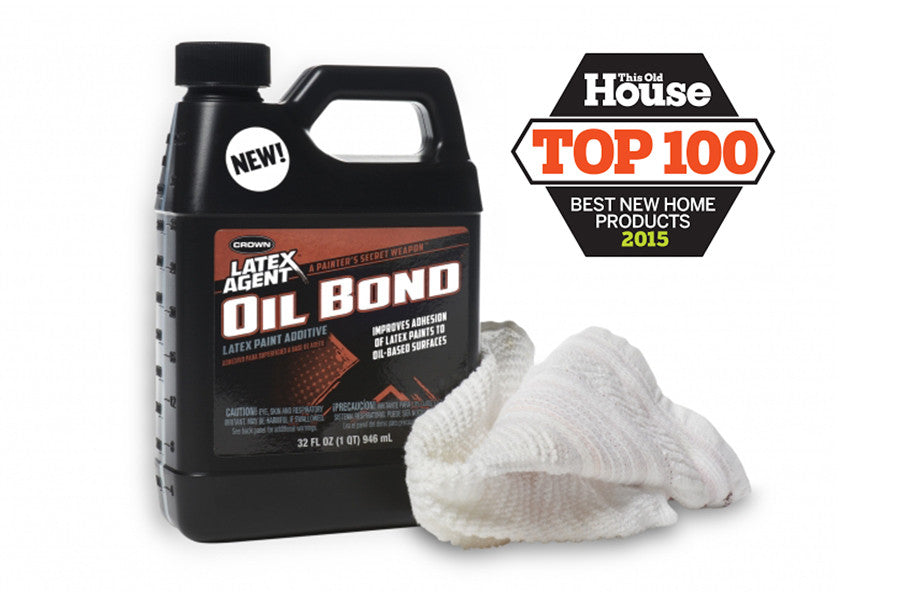 This Old House Names Oil Bond Top 100 Product
Posted by : Latex Agent /
"Miracle Additive." - This Old House
Beside the latest and most innovative new remodeling, and decorative products to be recently released, the master craftsmen and women of This Old House have named Oil Bond a TOH Top 100: Best New Home Products 2015. Read their description and uses for Oil Bond and learn more about this amazing new product. It's designed to reduce the need for sanding when painting on oily surfaces.
Read the review from This Old House...
Stop Sanding

Oil Bond paint additive, by Latex Agent


With this additive, you don't have to sand and prime before painting oil-based coatings. Simply wipe it on to clean and degloss the old finish. Wait an hour for it to dry, then mix some into your choice of latex top coat. The additive in the paint chemically cross-links with the wiped-on coat, creating a firm bond. Perfect for encapsulating lead- based paint. About $15 per quart;
latexagent.com
Why We Love Oil Bond
For Professional Painters
Professional painters need quality products that save time, and increase profitability. This Old House experts tested Latex Agent's Oil Bond and the conclusion was clear: it works. By providing a perfect bonding to any oil-based or glossy finish, Oil Bond omits the need to sand or prime, saving time, work and making pro painters more efficient and profitable.  Still skeptical? Try it for yourself today with our Pro Offer. 
For Do-It-Yourself Painters
Whether painting kitchen cabinets, trim, dressers, or desks, Oil Bond is an excellent product for Do-It-Yourself types. Oil Bond works perfectly. Imagine a professional paint job, no steps skipped, and a beautiful finish, but without all the work of sanding and cleaning. Give used furniture a new look, or touch-up the trim in your living room. Oil Bond makes painting oily surfaces easy. It's truly a miracle additive. What project are you ready to tackle? Purchase Oil Bond directly from Latex Agent, $14.98.
Find it Online at Home Depot
$14.98 /each

Product Overview
Oil Bond is a latex paint additive that helps latex paint adhere to oil-based or glossy surfaces, including polyurethane. Simply pre-treat the surface to be painted by wiping on a layer of oil bond using on a clean cotton rag, allow the surface to dry, then add a dose of Latex Agent Oil Bond to your choice of latex paint. Using oil bond is easier to use than sanding and without the clean-up of sanding. Save time and money with oil bond. Ideal for repainting cabinets doors and trim around windows and doors. Also ideal for repainting furniture.
Eliminates the need for time-consuming prep work, including sanding or priming the surface before painting oil-based and glossy surfaces, including polyurethane, with waterborne or latex paint
Plastic bottle is easy to use with a view strip on the side panel for ease of measurement and dosing into paint
Works with any brand or gloss of latex or waterborne paint
Low odor for ease of use
Cleans up easily with soap and water
1 qt. of oil bond can be used for up to 2 gal. of paint
Will not affect the qualities of the base paint
VOC compliant for use in all VOC regulated areas, including CARB and SCAQMD
Oil Bond is a miracle additive featured as a top 100 product in This Old House