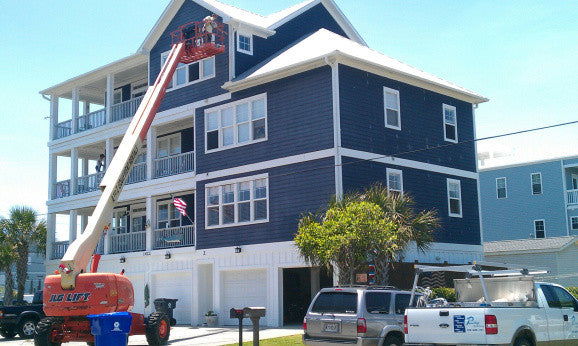 Painting by Jeremy adds Latex Agent Hard Coat to his selection of paint sundries
Posted by : Latex Agent /
Jeremy Steele, proprietor of Painting by Jeremy, has been professionally painting for over 10 years. Based in Wilmington, North Carolina, Painting by Jeremy performs 80% of their work on interior and exterior paint jobs on the nearly 7,000 beach house rentals built on Wilmington beach. When he's not spending his time on luxurious beach rentals, he's traveling to other cities and states to perform projects by those who reach out to him.
| | |
| --- | --- |
| In preparation for Wilmington's tourism season, Jeremy speculates on what he could add to his collection of paint sundries to keep himself up to date in a competitive marketplace. After hearing about Latex Agent Hard Coat from his friends at the PDCA this past year, Jeremy chose Latex Agent Hard Coat to add to his selection. |  Beach Front Vacation Rental |
Hard Coat is a new latex paint additive that was introduced, along with a line of four others, by Latex Agent. Hard Coat creates a long-lasting, more durable surface that resists nicks and scuffing of latex paint. It is a popular choice for interior and exterior painting projects, and is useful on furniture, walls, doors, and throughout high traffic areas.
Ready to start painting for the season, Jeremy acquired four bottles of Hard Coat which treats 8 gallons of paint! And he began his undertakings on the beach rentals.
Jeremy used Hard Coat on both furniture and trim, for which he claims the new coats of paint are both more durable and resistant to chipping. In one case, Jeremy notes that he used Hard Coat on trim in a narrow hallway that was susceptible to a more than usual amount of scuffing. His client was looking for a retouch that would not only re-do the current trim, but also be more resistant to gashes in the future. Jeremy decided that this was the perfect opportunity to use Hard Coat (and he was right!). Not only did the new coat of paint become more durable, but more importantly his client was pleased that the issue had been resolved.
| | |
| --- | --- |
| Before | After |
Jeremy especially remembers the time he used Hard Coat on a massive cherry  wall cabinet 8ft. x 8ft. He primed and painted over the cherry finish with two coats of latex and then mixed Hard Coat to the top gray latex glaze to give it a weathered look, and now the beach rental is ready for the season. We might also mention that this client afterward hired Painting by Jeremy to do their full on exterior paint, a project he's excited to perform in the near future (Congrats Jeremy!).
Jeremy is looking forward to using Hard Coat on the exterior of this client's house; but he's also excited to try Dirt Repel next. Dirt Repel by Latex Agent creates an easily washable finished surface that rids of dirt with a gentle spray of water. With 7,000 beach front houses at his disposal that take a constant beating from the ocean, Dirt Repel is likely to be the next product Jeremy adds to his arsenal.