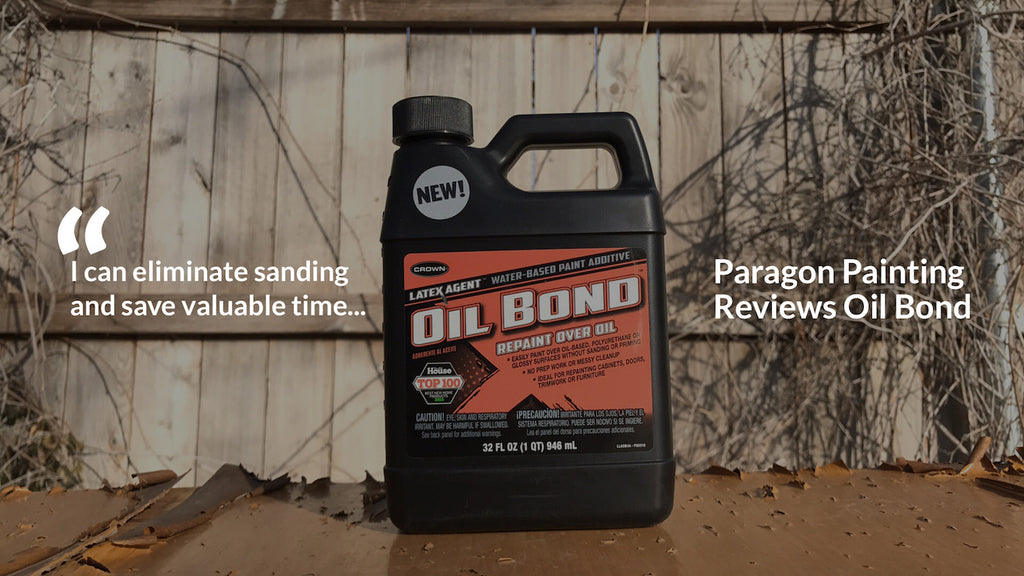 Bonds "Like Glue": Paragon Painting Eliminates Sanding with Oil Bond
Posted by : Latex Agent /
"Latex Agent works great! I use Oil Bond when painting over oil paint because I can eliminate sanding and save valuable time. It's easy to use and bonds to the oil paint like glue. I will definitely be ordering more and will be using Latex Agent in all of my upcoming projects." 

- Ryan Briggs, Paragon Painting
Ryan and the rest of the team at Paragon Painting were one of the first to discover what many other professional painters are now discovering: Oil Bond is the biggest innovation in paint.
Oil Bond eliminates sanding with its powerful chemical formula. It adheres "like glue" to oil-based paint, and even poly surfaces, like finished furniture, in-set cabinets, tables and more. By wiping Oil Bond directly onto the surface with a clean cloth, Oil Bond preps itself. Then, once Oil Bond is added into the new latex-based paint, the bond is created. It lasts, doesn't peel, and looks great, just like a traditional paint job over a sanded surface.
Never sand oil-based trim again. Use Oil Bond.
The difference to pro painters on the job site is truly remarkable. Imagine your next job, including interior trim, doors and cabinets. What if you didn't have to sand? That would mean no more dust containment, less labor, and a faster, cleaner experience for clients. Imagine the reduction in labor costs for professional painters who use Oil Bond regularly?
Dust containment isn't necessary when using Oil Bond.
Check out the latest Oil Bond video, including a side-by-side comparison with two kitchen cabinet doors. One is painted the traditional way, including sanding, a coat of primer and paint. The other is painted using Oil Bond, and without sanding.