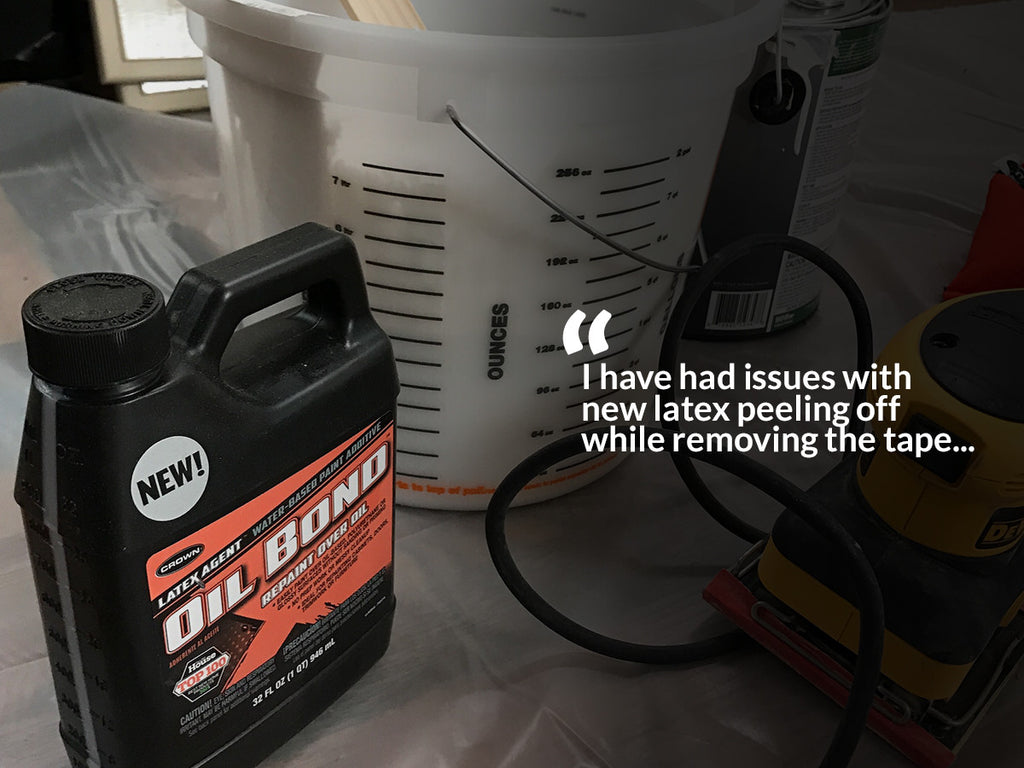 Painter Finds New Amazing Way to Use Oil Bond
Posted by : Latex Agent /
Oil Bond Boosts Peel Durability
I loved the Latex Agent Oil Bond product. The older house I have has oil based paint on the wood trim. I previously have had issues with the new latex peeling off while removing the tape I used for masking the edges. With the latex Oil Bond product applied to the wood trim and overlapping onto the wall 3 - 4 inches I did not have any areas of latex peel off during tape removal. I also used Oil Bond to apply over doors that have had the paint removed from them. No issues with the new latex bonding to the old slight residue of varnish that was present. Very pleased with the product. Easy to apply and it works. - Home Depot Review via mowerguy
Prevent Peeling with Award-Winning Additive
Oil Bond's typical use helps painters eliminate sanding oil-based paint surfaces, like trim, cabinets, doors and windows. But, there are other benefits to using Oil Bond's unique chemical makeup. 
One painter used it to help reduce peeling when pulling tape away from freshly painted latex paint. 
Latex Paints May Peel When Tape is Pulled
I'm peeling off painter's tape but the paint is coming off! - John Klimek
PHOTO: Latex paint peel after peeling back tape.
It happens to many painters. After finishing a fresh paint job, all that's left to do is peel the tape. Often, latex paints become so rubber-like, it can peel away from the tape, causing imperfections that are hard to correct. When a new latex paint surface has peels, it's nearly impossible to sand down and correctly level, causing many extra hours work or unsightly ridges sometimes. 
That's where Oil Bond can help. 
Using Oil Bond gives latex paint the smoothness and accuracy of oil-based paints. It's the best of both worlds, without any hassle. 
How will you use Oil Bond? Let us know by email. Send to latex_agent@packserv.com, or call us directly at 1-832-300-4089