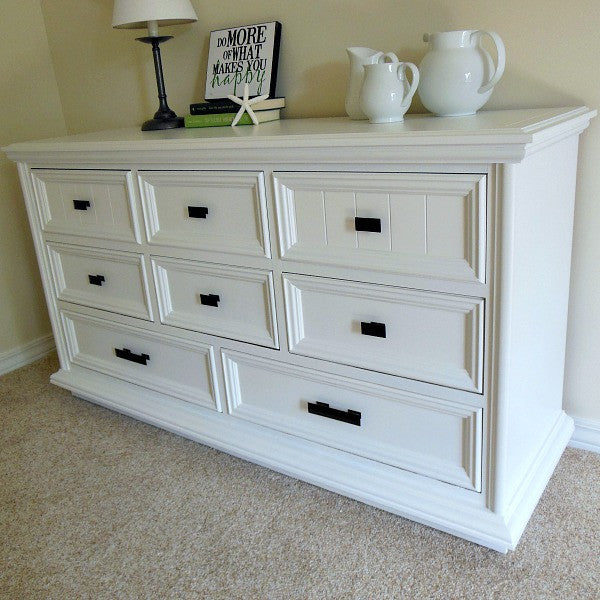 Marilyn's Review: Paint Furniture Without Sanding
Posted by : Latex Agent /
This product works well. I used it on a cheaper piece of furniture that was too useful to get rid of. Since, painting it, there has been no chipping or scratches. It still looks good! - Marilyn, Home Depot Review
How To Paint Furniture Without Sanding
One of the most popular home projects of 2016 was painting furniture, particularly unwanted, old, stored or otherwise outdated pieces. Painting can provide a new fresh look, a makeover, giving your home a designer's feel. On Pinterest alone, there are thousands of examples of painted furniture projects. 
Freshly Painted Furniture Can Rejuvenate Any Space
We found this beautiful newly-painted secretary on a Pinterest project board.
What was once a scratched, and overused dresser turned out to be this beautifully clean dresser.
This Pinterest project really got creative, enhancing this dresser's design with a two-tone style (natural wood, and new paint), wicker baskets, and a beautiful succulent.
You may love the idea of painting that one dresser that's been sitting in your garage the past year, but it's truly a lot of work. Maybe you haven't had time. Any paint job requires sanding. That's where Oil Bond comes in. Marilyn used Oil Bond with her painted furniture project and didn't need any sanding.
How Oil Bond Works
Oil Bond is a paint additive that enables latex paint to stick to glossy and previously oil painted surfaces. Rather than sanding down and priming the surface of the furniture first, Oil Bond ensures the paint's ability to adhere properly to the surface of your furniture, and allow you to skip sanding altogether. It's perfect for glossy, or oil-based surfaces.
NOTE: Do not use Oil Bond on plastic, glass or other surfaces that may be on your furniture. It only works directly on the surface of the wood, finishes, and painted surfaces.
Normally, without sanding, paint would not apply properly, causing peeling, bubbling, or other major problems. Not with Oil Bond. It's unique chemical makeup makes it "stick" and last. It's even earned distinction from This Old House, who named it a Top 100 Product in 2015.
What You'll Need
Clean towel or rag
Oil Bond
Paint of your choice
Paint brush
Clean paint bucket
AND NO SANDING REQUIRED! 
NOTE: Oil Bond has no negative effects on paint color, UV rating, or durability.
Instructions
First, make sure your furniture is clean, free of dust or peeling, chipping paint. NOTE: Oil Bond won't adhere to chipping and peeling paint. 
With a clean towel or rag, wipe a little Oil Bond on the surface area you're ready to paint.
Pour your paint into a clean bucket, and add Oil Bond following the instructions on the bottle.
Now, you're ready to paint! 
Learn more and buy Oil Bond here: www.latexagent.com/products/latex-agent-oil-bond
Find it at The Home Depot: www.homedepot.com/p/Latex-Agent-1-qt-Oil-Bond-CR-LAOB-P-64/206454745