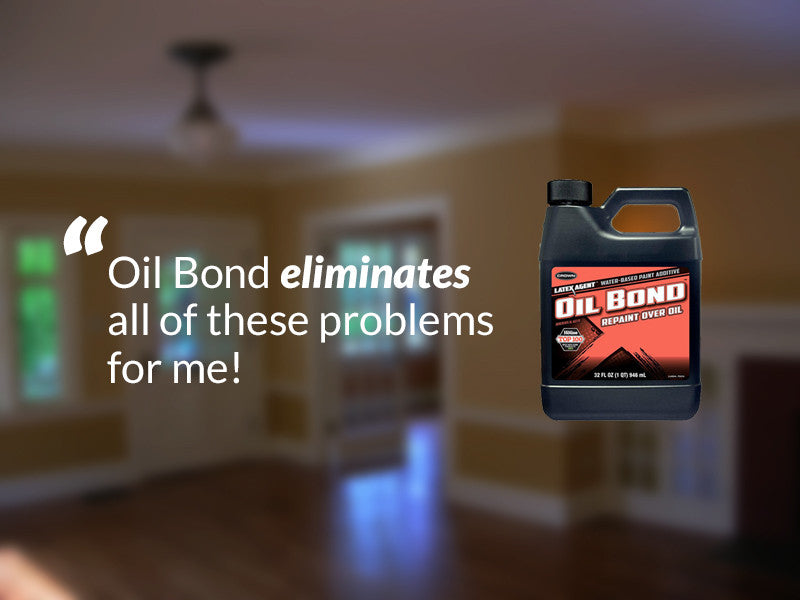 "Oil Bond eliminates all of these problems for me!" - Painting Pro Review
Posted by : Latex Agent /
Paint Contractor: Oil Bond "Huge Time Saver" 
This is the real deal and saves so much time for me as a painting contractor. I was skeptical at first and had to do a few tests, latex paint with Oil Bond passed my scratch test over oil base trim very well. Oil base is very messy, smells in my client's home, takes forever to dry, is expensive to clean up and is all around time consuming. Oil Bond eliminates all of these problems for me! I highly recommend! - Andrew Wilder, Painting Contractor

 See the review at Amazon.com
Oil Bond Eliminates Common Painting Job Site Problems
What It Takes To Properly Paint Over Oil-Based Paint Surfaces
Painting latex-based paints over oil requires several major time-consuming, and labor-intensive steps. If you're a professional painter, you'll need to prepare for extra precautionary steps to ensure your client's home or office space doesn't end up with tiny particles of dust and paint when you're finished. Oil-based paints are notoriously messy. 
Taping off and closing off door ways, windows, cabinets
Sanding
Extra cleanup
Priming
How Oil Bond "Eliminates All of These Problems"
Oil Bond adds a unique chemical mixture to paint enhancing its properties to such an extent that sanding, and even priming, are no longer necessary when painting over oil-based surfaces. It works over polyurethane finishes, and other similar coatings used on woodwork, cabinets, and furniture.
Without sanding, professional painters save time. Not only do they not have to do the work of sanding and priming, they don't have to do the prep work, or cleanup. 
The time-savings immediately translates into better profits!
Learn more about Oil Bond and purchase your bottle today.
Video: "I'm not going to sand anymore. I'm going to use Oil Bond"