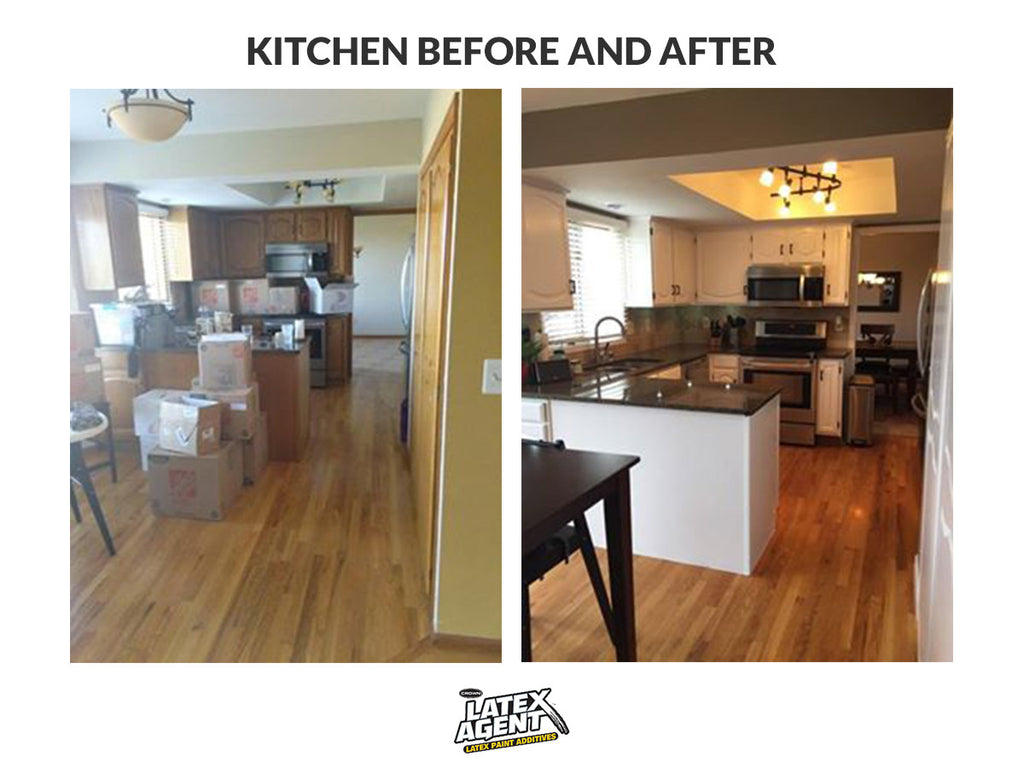 Rachael's Story: Painting Your Home Before the Holidays
Posted by : Latex Agent /
With the holiday season arriving, it's that special time of year when our homes play host to a variety of events with friends and family. Many of us have been busy all year. And as Thanksgiving, and Christmas quickly approach, you might notice just how much a new paint job would improve your kitchen cabinets, trim, doors, or even furniture. Whatever it is, if you're looking for a quick, and clean paint job for your home, Rachael's story is for you.
Meet Rachael
Rachael found herself scrambling for a new kitchen cabinet, and living room panelling paint job. Wishing she had a faster solution to repaint before Thanksgiving, she reached out to us on Facebook. She'd learned about Oil Bond, a latex paint additive designed to work with paint perfectly on oily surfaces without sanding preparation. For Rachael, this was a game changer. No sanding, no dust particles flying into the air, and into the decor of the rest of the house.
To do any painting job correctly on these types of surfaces, a full sanding of the surface is required. Without sanding, paint will not correctly adhere to the surface of most kitchen cabinets, trim or other oily, finished or coated surfaces. Using Oil Bond creates a powerful grips much like velcro. It lasts for years to come, and has been recognized by This Old House as one of their top products last year. Rachael knew the possibility of a faster, cleaner paint job that looks professional was within her grasp.
When we heard from Rachael, it was after office hours. So, we scheduled a call early the next morning, and quickly arranged for an overnight shipment of Oil Bond to arrive at Rachael's home. We're excited to say that this week, Thanksgiving week, Rachael has used Oil Bond to repaint her kitchen and living room! Check out the results she sent us.
If you're like Rachael and are looking for a quick, yet sustainable solution that doesn't require sanding, priming, and a big mess, we're here for you. Simply contact us directly.
Wrapping Up
Interested in how Oil Bond works? You can learn more about the process here. Ready to paint? Let's get to work! Oil Bond and other Latex Agent products are available online. Feel free to contact us about your product questions or how we can help with your next holiday paint job (headache free). Oil Bond is also available at homedepot.com and amazon.com.