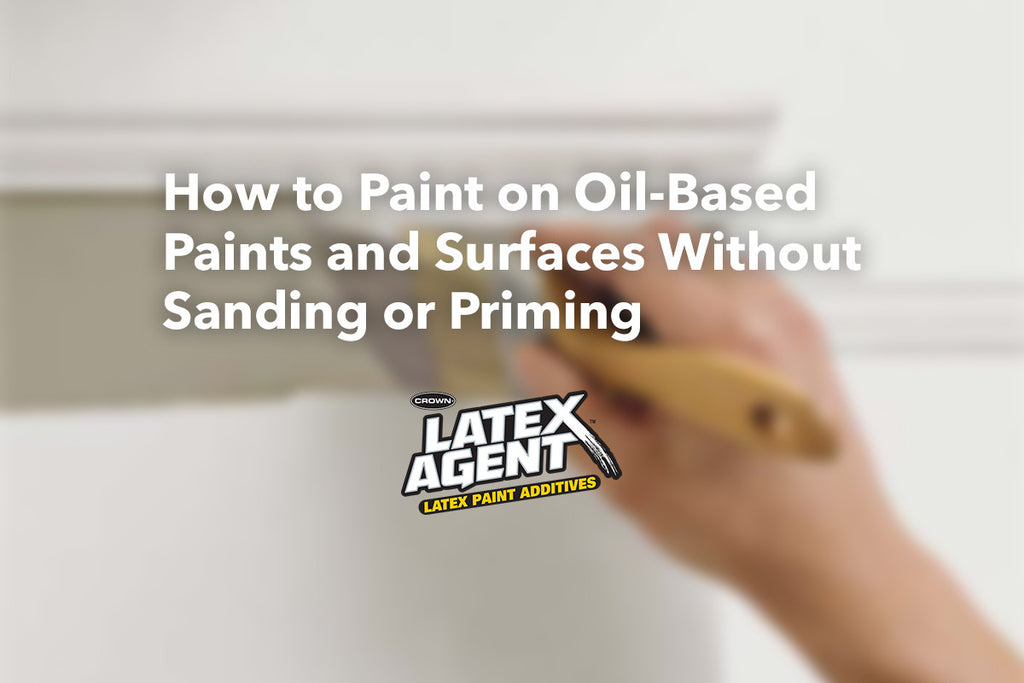 How to Paint Oil-Based Paints and Surfaces Without Sanding or Priming
Posted by : Latex Agent /
Are you looking to save time and elbow grease on your next painting project? Are you going to be painting over oil-based painted surfaces? If you answered yes to both of those questions, this blog is for you!
In these 3 easy steps, you can avoid the time-consuming, hard work of sanding and priming prep by using Oil Bond.
Wipe Oil Bond, an award-winning paint additive from Latex Agent, on the area with a clean rag
Mix Oil Bond into the paint using the instructions on the bottle
Paint
• No sanding, no priming: you're done!
The Traditional Way to Paint over Oil-Based Paint
A typical oil-based paint project consists of more time-consuming and labor-intensive steps, including:
• Sanding prep, often includes taping off doorways to prevent messes into other rooms
• Sanding debris cleanup
• Priming
• Paint
How Oil Bond Works on Oil Based Surfaces
Step 1: Wipe Oil Bond Directly
Oil Bond creates a powerful adhesive bond to oil-based painted surfaces without having to sand or prime. With an award-winning mix of specially designed ingredients, Oil Bond has been recognized by professional painters, as well as the biggest names in home improvement. This Old House named Oil Bond a Top 100 Product in 2015. When Oil Bond is wiped directly to oil-based painted surfaces it creates a velcro-like based on which to apply paint.
Step 2: Mix Oil Bond Into the Paint
Now, it's time to create the top layer of velcro-like adhesion using Oil Bond. By adding the additive into your paint and mixing well, the newly-enhanced paint will adhere powerfully to the base. The result is an enhanced application that's sure to last. Your paint's UV Rating, color and finish will not be affected by using Oil Bond. It is guaranteed to not negatively affect latex-based paints. Follow the instructions on the bottle for best results and do not use multiple paint additives in the same paint.
Step 3: Paint
Now that you've used Oil Bond, you can skip over sanding! That means no sanding labor, and no clean up. You'll miss out on all the work of cleaning sanding debris, including the inevitable debris to make its way into cracks and crevices nearby. Also, many oil-based paints contain high levels of toxins. Particularly in older homes with potentially lead-based paints, Oil Bond is an extremely useful way to avoid harmful sanding debris flying into the air. You've also skipped priming, saving even more time, labor and money. Enjoy!
Learn more about Oil Bond. Click here.
Related links:
How to Paint Stained Wood: From Five Steps to Three